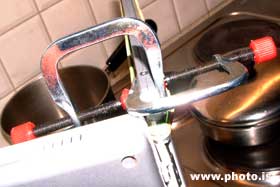 Apple should lend a spare computer to the customer, at least if they are going to run an expensive remote service from only one source in Europe.
Apple should offer a replacing program.
For many small companies it can be difficult to be without the only computer for a many weeks.
Apple should take better care of their best market in the world, the Icelandic market with most sold machines pr. individual.
Kjartan P. Sigurdsson • www.photo.is • The Web was made on a repaired PowerBook Titanium G4 500MHz 2001-10-08.

P.S. I like my 1.5 year old G3/500MHz better, i.e. it does not have scratces all over and look like 3-4 year old.

On MacNN you can give your comments about this problem.